Description

Banana Pi BPI-M64 is a 64-bit quad-core mini single board computer. It features 2GB of RAM and 8GB eMMC. It also has onboard WiFi and BT. On the ports side, the BPI-M64 has 2 USB A 2.0 ports, 1 USB OTG port, 1 HDMI port, 1 audio jack, and lastly a DC power port. The processor is pin-to-pin comptialbe with R18, so it comes with two versions:M64 and M64-R18.
Also being a member of the Banana Pi family, the M64 is a big jump from the octa-core BPI-M3. This is because this Banana Pi BPI is named after its 64-bit SoC. BPI-M64 will be reserved for an upcoming board
BPI-M64 is an open platform device, it is for anyone who wants to play and build with developer technology instead of simply using consumer technology. Backed by our community, starting a project and building servers is fun and rewarding. We welcome all companies, DIYers, and tech loving people within our community! Together, we can make a difference, we can discover our passions, inspire others, and build a practical project.
Also check our wide range of  Banana pi ,  IOT Products and AI products
Hardware inerface: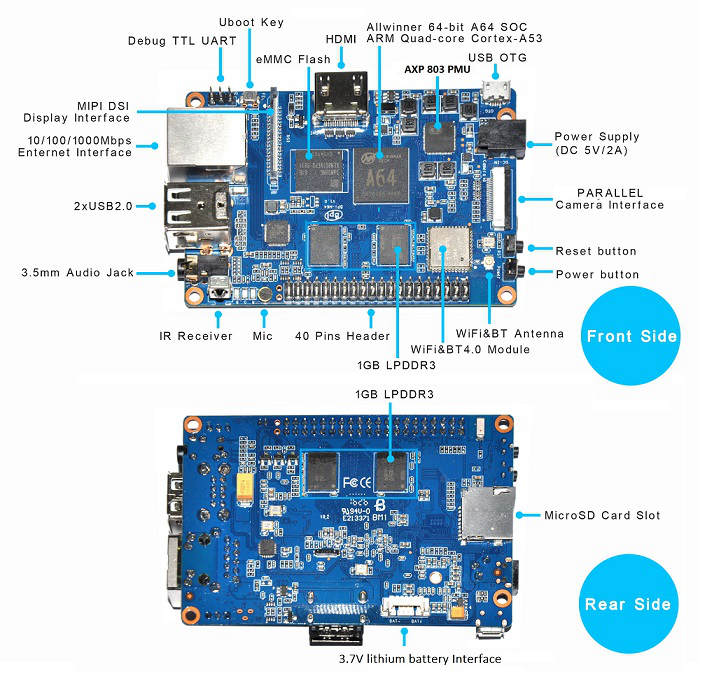 Hardware spec:
HardWare Specification of Banana pi BPI-M64
CPU
Allwinner 64 Bit Quad Core ARM Cortex A53 1.2 GHz CPU
GPU
Dual core Mali 400 MP2 GPU
Memory
2GB LPDDR3 (shared with GPU)
Storage
MicroSD slot with support for up to 256GB expansion and 8G eMMC flash with support for up to 64GB
Network
10/100/1000 Mbit/s Ethernet + Wi-Fi 802.11 b/g/n + Bluetooth 4.0
Video Input(s)
A CSI input connector allows for the connection of a designed camera module
Video Output(s)
1080p capable HDMI port and multi-channel audio output (NO H./X.265 capabilities)
Audio Input(s)
On board microphone
Audio Output(s)
3.5mm jack and HDMI
USB ports
USB 2.0 PORT (x2), USB OTG (x1)
Remote
IR Receiver
GPIO
40 Pin Header : GPIO (x28) and Power (+5V, +3.3V and GND). GPIO pins can be used for UART, I2C, SPI or PWM
Switches
Reset, Power and U-boot
LED
Power Status and 8P8C
Power Source
5 volt @2A via DC Power and/or Micro USB (OTG)
Size & Weight
92x60mm, 48g
OS
Android and Linux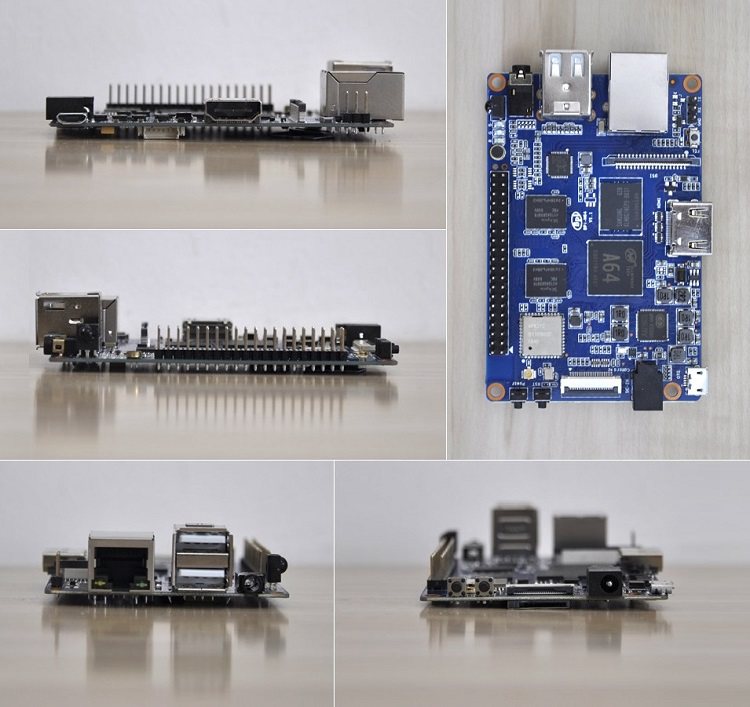 Online wiki development documents: https://wiki.banana-pi.org/Banana_Pi_BPI-M64